Worldwide shipping available
Country of origin: India
PRODUCT INFORMATION
CUSTOMER REVIEWS
PRODUCT INFORMATION
About this Product
Description: This Sukkhi Charming Butterfly Hair Clip Hair Accessories for Women and Girl (Pack of 6) (Size: M). Hair Clips function as good hair styling tools and accessories for girls, and they are good for holding your hairstyle well and will not hurt your hair. Moreover, they are easy to wear and help you make beautiful hairstyles. These No slip hairclips for women have good grip & won't pull or snag hair, giving an all-day comfort. We provide exact design and colour as shown in image.
Details
| | |
| --- | --- |
| Brand | Sukkhi |
| Product Type | Hair Clip |
| SKU | SKR68921 |
| Colour | Multicolor |
| Material | Plastic |
| Plating | NA |
| Stone Type | NA |
| Dimension | 20cm X 2cm |
| Weight | 100 grms |
Warranty
Sukkhi offers a full statutory warranty covering manufacturing and material defects for genuine branded Sukkhi products purchased from Sukkhi own stores (including Online) or authorized Sukkhi retailers for a period of 6 months from the date of purchase. The terms of the warranty may vary between markets and regions. The warranty only covers damage that in the opinion of Sukkhi or an authorized Sukkhi retailer is not caused by accident or inappropriate use, ordinary wear and tear, modification, attempted repair, negligence or by failure to follow Sukkhi special product Care Advice. Every item found to be defective under this warranty may be, at the discretion of Sukkhi or an authorized Sukkhi retailer: 1. Replaced by an identical piece, if available: 2. Substituted with a piece of comparable value; or 3. Repaired depending on the degree of damage to the warranted product as well as on the feasibility and the availability of replacement parts. The damaged product should be sent by post or courier. This warranty service is provided free of charge. Please retain the purchase or delivery receipt, or order id (in case of online), the gift receipt or the certificate of authenticity in case you have a warranty claim. The receipt or the certificate serves as proof of purchase and authenticity for products purchased and as evidence of entitlement to this warranty. These warranty conditions apply if there are no specific warranty conditions granted for specific products. Sukkhi reserves the right to amend or adapt these warranty conditions with implications for the future at its discretion at any time. This warranty does not affect your statutory rights.
Putting beauty to the test
The Sukkhi Glistening Gold
We understand that you deserve to feel beautiful and confident in every piece of jewelry you wear. That's why we put our jewelry to the test, ensuring that it meets our stringent quality control processes. From the intricate details of our necklaces and earrings to the durability of our bangles and rings, every piece of Sukkhi jewelry is carefully crafted to exceed your expectations.
Unveiling Elegance
Discover the Sukkhi Charm
Trust Sukkhi to be your go-to destination for stunning jewelry that enhances your beauty and celebrates your unique style. Join us in unveiling the elegance of our jewelry and discovering the Sukkhi charm. Elevate your style with our exquisite imitation jewelry that is crafted to perfection. Experience the Sukkhi difference today.
Radiate Elegance
Discover Sukkhi's Charm
Embrace your unique radiance with Sukkhi jewelry and elevate your style with confidence. Join us in discovering the Sukkhi charm and indulge in the sparkle of our necklaces, earrings, bangles, and rings. Explore our collection today and radiate elegance with Sukkhi.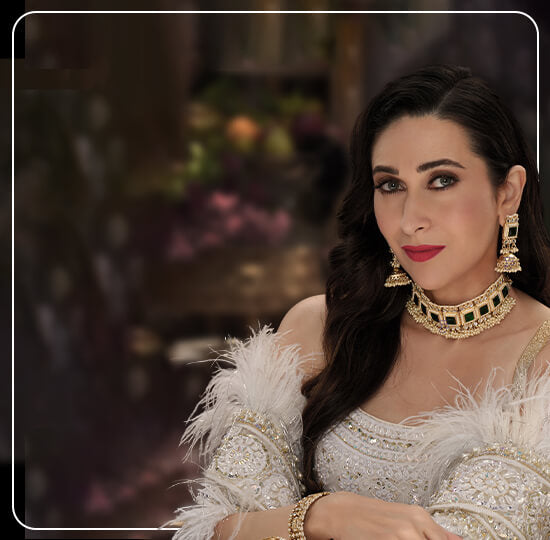 Register Your Wholesale Account With Us
Now you can open a Wholesale Account with Sukkhito ease your needs. Click below to proceed.