Worldwide shipping available
Country of origin: India
PRODUCT INFORMATION
CUSTOMER REVIEWS
PRODUCT INFORMATION
About this Product
Description: Sukkhi Classy Pearl Gold Plated Kundan Meenakari Jhumki Earring for Women
Details
| | |
| --- | --- |
| Brand | Sukkhi |
| Product Type | Earrings |
| SKU | SKR73331 |
| Colour | |
| Material | Alloy |
| Plating | 18kt Gold Plated |
| Stone Type | Kundan & Pearl |
| Dimension | 5cm X 3cm X 5cm |
| Weight | 100 grms |
Warranty
Sukkhi offers a full statutory warranty covering manufacturing and material defects for genuine branded Sukkhi products purchased from Sukkhi own stores (including Online) or authorized Sukkhi retailers for a period of 6 months from the date of purchase. The terms of the warranty may vary between markets and regions. The warranty only covers damage that in the opinion of Sukkhi or an authorized Sukkhi retailer is not caused by accident or inappropriate use, ordinary wear and tear, modification, attempted repair, negligence or by failure to follow Sukkhi special product Care Advice. Every item found to be defective under this warranty may be, at the discretion of Sukkhi or an authorized Sukkhi retailer: 1. Replaced by an identical piece, if available: 2. Substituted with a piece of comparable value; or 3. Repaired depending on the degree of damage to the warranted product as well as on the feasibility and the availability of replacement parts. The damaged product should be sent by post or courier. This warranty service is provided free of charge. Please retain the purchase or delivery receipt, or order id (in case of online), the gift receipt or the certificate of authenticity in case you have a warranty claim. The receipt or the certificate serves as proof of purchase and authenticity for products purchased and as evidence of entitlement to this warranty. These warranty conditions apply if there are no specific warranty conditions granted for specific products. Sukkhi reserves the right to amend or adapt these warranty conditions with implications for the future at its discretion at any time. This warranty does not affect your statutory rights.
Putting beauty to the test
The Sukkhi Glistening Gold
We understand that you deserve to feel beautiful and confident in every piece of jewelry you wear. That's why we put our jewelry to the test, ensuring that it meets our stringent quality control processes. From the intricate details of our necklaces and earrings to the durability of our bangles and rings, every piece of Sukkhi jewelry is carefully crafted to exceed your expectations.
Unveiling Elegance
Discover the Sukkhi Charm
Trust Sukkhi to be your go-to destination for stunning jewelry that enhances your beauty and celebrates your unique style. Join us in unveiling the elegance of our jewelry and discovering the Sukkhi charm. Elevate your style with our exquisite imitation jewelry that is crafted to perfection. Experience the Sukkhi difference today.
Radiate Elegance
Discover Sukkhi's Charm
Embrace your unique radiance with Sukkhi jewelry and elevate your style with confidence. Join us in discovering the Sukkhi charm and indulge in the sparkle of our necklaces, earrings, bangles, and rings. Explore our collection today and radiate elegance with Sukkhi.
FAQs
What materials are used in the Necklace Set products?
The necklace sets are made from a variety of materials, including brass, copper, zinc alloy, and other metals. They are often plated with gold, silver, or rhodium for a polished finish. The sets can also include various types of stones, beads, crystals, and other decorative elements.
Are the Necklace Sets hypoallergenic?
While many necklace sets are made with materials that are less likely to cause an allergic reaction, it's important to check the specific product details for information on hypoallergenic properties. If you have a known allergy to certain metals, choose a necklace set made from a material that is safe for you to wear.
Can I customize the size or length of the Necklace Set?
Some necklace sets may offer the option to customize the size or length. Check the product description or contact the seller for more information about customization options for specific necklace sets.
How should I care for and maintain my Necklace Set?
To keep your necklace set looking its best, store it in a cool, dry place away from direct sunlight. Avoid exposing it to water, chemicals, and excessive humidity. Gently clean the necklace set with a soft cloth to remove any dirt or oils that may accumulate over time.
Will the gold or silver plating wear off over time?
While the plating on necklace sets is designed to be durable, it can wear off over time with regular use. To prolong the life of the plating, avoid exposing the necklace set to water, chemicals, and abrasive surfaces.
Can I wear the Necklace Set daily, or is it only suitable for special occasions?
Necklace sets can be worn for both daily wear and special occasions, depending on your personal preference and the design of the set. Some sets may feature more elaborate designs that are better suited for formal events, while others may have a simpler design that can be worn every day.
What is the return or exchange policy for Necklace Set products?
Return and exchange policies may vary between sellers. Be sure to review the specific policy details provided by the seller before making a purchase. In general, returns or exchanges may be accepted within a specified time frame and in their original condition.
Do the Necklace Sets come with a warranty or guarantee?
Warranty or guarantee information may vary depending on the seller or manufacturer. Check the product description or contact the seller for more information on any warranties or guarantees that may be available for the specific necklace set you're interested in.
Can I purchase matching earrings, bangles, or rings for my Necklace Set?
Many necklace sets come with matching earrings, and some may also include additional matching pieces such as bangles or rings. Check the product description for details on what is included with the necklace set, or look for other products from the same collection to find coordinating pieces.
Are the Necklace Sets suitable for all age groups?
Necklace sets can be suitable for various age groups, depending on the design and style. Some sets may have a more youthful or contemporary design, while others may feature a classic or traditional style. Be sure to choose a necklace set that aligns with the personal style and preferences of the intended wearer.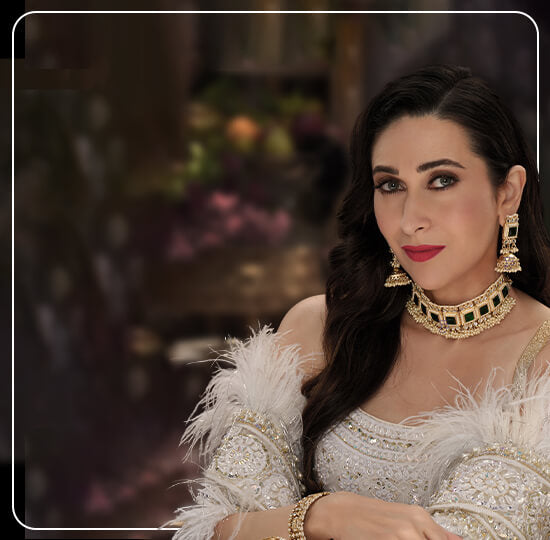 Register Your Wholesale Account With Us
Now you can open a Wholesale Account with Sukkhito ease your needs. Click below to proceed.